The Chazen Museum of Art on the University of Wisconsin-Madison's campus just underwent a major expansion which now houses their permanent collection and temporary exhibitions in state of the art galleries. The new museum provides an opportunity for students and the public to see art -- for FREE -- that seriously rivals other universities.
Yesterday I popped down to UW-Madison's Chazen Museum to see a couple of exhibitions. One was the large Offerings of the Angels, an exhibition of paintings and tapestries from the Uffizi in Florence, Italy that is currently traveling through the US. The Chazen is the only museum in the midwest to host this collection of Renaissance masterworks.
It was a very nice show. I will admit that Renaissance art has never been a huge source of interest for me, but I still appreciate this work immensely. The age of the work also astounds; some of the paintings were 500 years old, and look as though they could have been done a couple of decades ago. Particularly interesting to me was a wall devoted to a painting titled
The Madonna and Child with Saint Catherine of Alexandria
by the Workshop of Titian, c. 1550-60 that not only showed the recently restored painting, which had been cleaned and spruced up after centuries of grime accumulated and paint had chipped off, but also showed reproductions of images taken during the conservation and restoration process. The images showed X-rays and other images found beneath and behind the image we can see now on the canvas. It was lovely to get an inside look at what was underneath the topmost layer of paint, and to see what historians used to date this piece and assign it the way they did.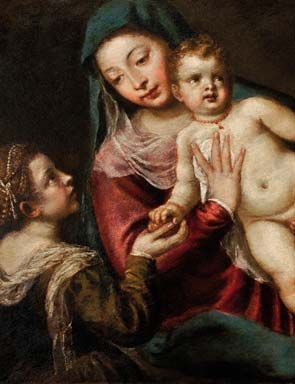 Workshop of Titian, The Madonna with Child and Saint
Catherine of Akexandria, c. 1550-60
Another one of my favorite pieces was actually a page from an illuminated manuscript that had been mounted to a board to be displayed like a painting. The craftsmanship was amazing; manuscripts always amaze me with their brilliancy and detail for a surface so small in comparison to many paintings or tapestries.
I also stopped in to see a student-curated two-gallery show called the Golden Age of British Watercolors, which contained a range of subject matter by various British artists in the 19th century. The one below,
The Devil's Bridge, St. Gotthard Pass
by Alfred William Hunt, c. 1859 was one of my favorites. Although watercolor is often given short shrift as a fine art medium, relegated to the status of "sketching" or "pastime" painting on a lower level than say, oil -- this sort of image does much to throw that notion to the wind.
It was a lovely visit, as always. If ever in Madison, WI, visit the
Chazen Museum of Art
for a fantastic permanent collection of modern and contemporary art, and a wonderful rotation of temporary exhibitions, lectures, and demonstrations by curators and staff.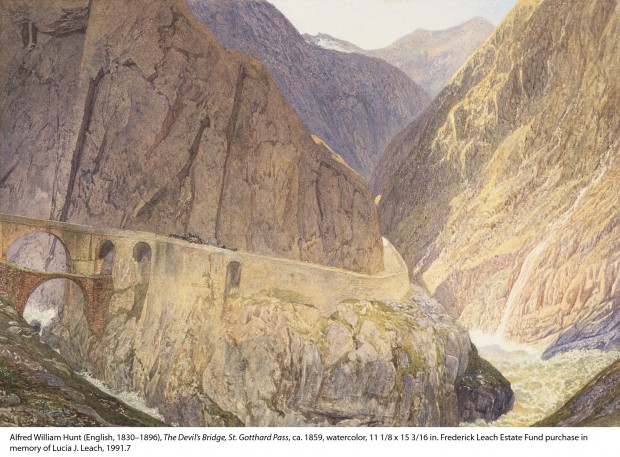 Offerings of the Angels runs through November 25, 2012, and The Golden Age of British Watercolors runs through December 2, 2012.